Wow, the new year starts, and already I've got homework!
It's time to announce this month's selection for the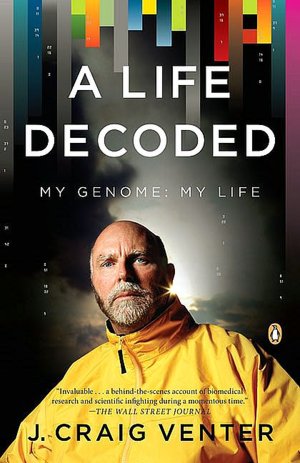 This month's title is A Life Decoded by J. Craig Venter.
"Of all the remarkable scientific achievements of the past century, perhaps none can match the deciphering of the human genetic code, both for its technical brilliance and for its implications for the future. A Life Decoded is the triumphant memoir from J. Craig Venter, one of the most fascinating and controversial figures in science today. In his riveting account, Venter tells of his rise from uninspired student to a brillian scientific mind who announced that he would decode the human genome years earlier and more cheaply than the government-sponsored Human Genome project—a prediction he fulfilled in 2001. A thrilling story of detection, A Life Decoded is also a revealing, and often troubling, look at how science is practiced today."
I've always been fascinated with science and new technological breakthroughs and discoveries, so I've been holding on to this one for a little while. Last month's challenge title was quite a disappointment for me, so I hope this one lives up to my expectations.